It has been proven for decades that fine dietary fiber can help reduce blood cholesterol levels by limiting the fat content of foods, thereby reducing the progression of arteriosclerosis, one of the most critical risk factors for cardiovascular disease.
Fine dietary fibers (apple pectin and plantain seed peel) play an essential role in forming the normal consistency of the intestinal content , thereby also in the relief and normalization of both diarrhea and constipation .
In the case of these lime disorders, papaya, and pineapple, rich in digestive enzymes such as papain and bromelain, can supplement the functioning of the digestive system in the intestine.
Made from: strictly controlled raw materials, using apple fiber, plantain seed peel, pineapple, papaya, sea buckthorn concentrate and maltodextrin, with gentle vacuum drying process, in HACCP quality assurance system.
Ingredients: plantain seed peel, apple fiber powder, pineapple powder, papaya powder, sea buckthorn powder.
Gluten and lactose free, Vegan product. Contains NO added sugar, colorant or preservative.
Instructions:
Once a day, 2 tablespoons of fibrous powder can be consumed immediately in 2-2.5 dl of milk, yogurt or kefir. It is important to consume abundant fluid, with a minimum of 2-2.5 liters of water or herbal tea daily. The consumption of the product does not replace a balanced mixed diet, but the consumption of dietary fibers can contribute to the normal functioning of the digestive system.
Important Instructions:
Store in a dry, cool place, protected from light and radiant heat! Use only a dry spoon when using, then always close the box well. It is advisable to consume the product within 3 months after opening, because after opening the protective foil, after prolonged standing, the granules of the fruit powder may stick together due to the moisture content of the air. This does not affect the product's warranty, it remains soluble in liquids.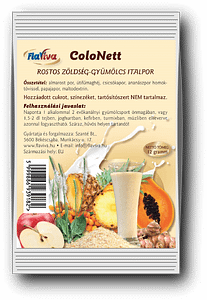 In 100g:
Energy (kJ) 1624
Energy (cal) 388
Protein (g) 3,0
Carbohydrate: (g) 88,9
of which sugar (g) 39
Fat (g) 0,9
saturated fatty acid (g) 0
Szerves sav (g) 5,1
Salt (g) 0,07
Samples of 1 serving of tasting product
are available in a 12g pack.