The outstanding polyphenol (especially significant anthocyanin) content of black elderberry and black currants and its resulting anti-inflammatory effects have been scientifically proven for decades.
In addition, some flavonoids (quercetin, isoquercetin, ellagic acid, myricetin, etc.) can be detected in high concentrations in blackberry. Antiviral effects have also been confirmed.
The significant mineral content of black currants (mainly iron, calcium, potassium, and magnesium) and the outstanding polyphenol content of rosehips can also contribute to the balance of oxide reduction, i.e., redox-homeostasis of the body, thereby maintaining the proper resistance of the whole organism.
Based on my personal observations and feedback from my patients for more than 10 years, I found that its regular use contributed significantly to preventing seasonal viral infectious respiratory diseases from autumn to spring and relieving symptoms. - Dr Anna Maria Nagy
Made from: strictly controlled raw materials, using black elderberry juice, blackcurrant juice, lemon concentrate and maltodextrin, low temperature gentle vacuum drying, HACCP quality assurance system.
Ingredients: black elderberry powder, blackcurrant powder, rosehip powder, lemon powder, maltodextrin. 
Gluten and lactose free, Vegan product. Contains NO added sugar, colorant or preservative.
Instructions:
As a refreshing fruit drink: Mixed 2 tablespoons of fruit powder 2 times a day with 1-2 dl of water, we can get an immediate, delicious, natural fruit drink, the regular consumption of which can contribute to a healthy diet.

Mixed in natural yoghurt: Can also be consumed as a fruit yoghurt.

As a fruit tea: by mixing 1-2 teaspoons of instant fruit powder into 2 dl of tea, we can consume the juicy fruit tea specialty that dissolves immediately.

As a "healthy snack": 2 tablespoons of instant fruit powder can be eaten slowly as a gourmet delicacy 2 times a day.
Important Instructions:
Store in a dry, cool place, protected from light and radiant heat! Use only a dry spoon when using, then always close the box well. It is advisable to consume the product within 3 months after opening, because after opening the protective foil, after prolonged standing, the granules of the fruit powder may stick together due to the moisture content of the air. This does not affect the product's warranty, it remains soluble in liquids.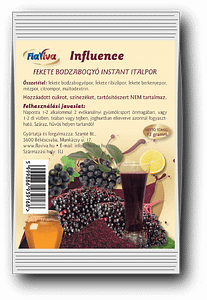 Samples of 1 serving of tasting product
are available in a 12 gram pack.
The product has a 1-year warranty.