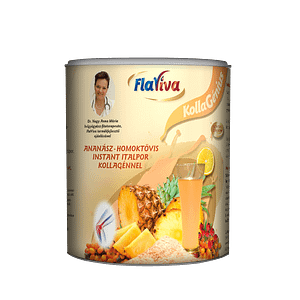 Regular replacement of instant hydrolyzed collagen, which is immediately soluble in water, as well as the content of sea buckthorn and rosehip vitamin C, can contribute to the formation of collagen in the body, thereby preserving the health of the connective tissues of the support and movement system - joints, tendons, bones.
Made from:  strictly controlled ingredients, type II hydrolyzed collagen using powder, pineapple juice, rosehip juice, sea buckthorn juice, lemon juice and maltodextrin, with a gentle vacuum drying process, in the HACCP quality assurance system.
Ingredients: hydrolyzed beef collagen, pineapple, sea buckthorn, and rosehip.
Gluten and lactose free, Vegan product. Contains NO added sugar, colorant or preservative.
Allergén Infromáció: Celery concentrate is also processed in the facility area.
Best before:from manufacture, without opening for 1 year, 3 months after the opening.
100 gramm termékben:
Energy (kJ) 1484
Energy (kcal) 354
Protein (g) 58
Carbohydrate: (g) 28
of which sugar (g) 10
Fat (g) 0,3
saturated fatty acid (g) 0
Salt (g)* 0,02
* The food only contains salt due to the natural presence of sodium.