The main ingredients of the lemonade-flavoured instant beverage powder are lemon and pineapple, which are known to have a beneficial effect on the body's fat metabolism. For this reason, Slimonade is a popular drink for dieters, especially in summer heatwaves.
Made from: strictly controlled ingredients, lemon juice, pineapple juice, sea buckthorn juice, orange juice concentrate and maltodextrin, with low temperature, gentle vacuum drying, in the HACCP quality assurance system.
Ingredients: lemon powder, pineapple powder, orange powder, sea buckthorn powder and maltodextrin.
Gluten and lactose free, Vegan product. Contains NO added sugar, colorant or preservative.
Instructions:
Important Instructions:
Store in a dry, cool place, protected from light and radiant heat! Use only a dry spoon when using, then always close the box well. It is advisable to consume the product within 3 months after opening, because after opening the protective foil, after prolonged standing, the granules of the fruit powder may stick together due to the moisture content of the air. This does not affect the product's warranty, it remains soluble in liquids.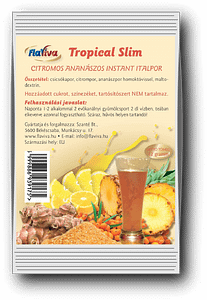 Samples of 1 serving of tasting product
are available in a 12 gram pack.
The product has a 1-year warranty.